1. Take down your curtains and inspect the back side of the fabric for signs of sun-rotting by stretching and feeling. If the curtains are sun-rotted, there's no point cleaning them, they need to be replaced.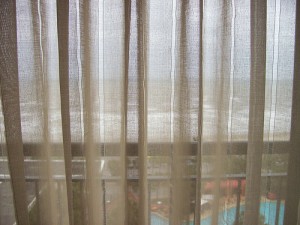 2. Wash unlined curtains according to the instructions provided on the label.
3. Have lined curtains professionally dry-cleaned to prevent possibly ruining them
4. Wash large curtains in your bathtub to prevent possible damage to your washing machine.
5. Boil rusty curtain rings in vinegar to rediscover their shine. Rub soap on old curtain rods to make them run smoothly again.
6. Toss your curtains into a dryer for a quick job. Add fabric softener to an air-dry setting and you've got fresh-smelling curtains in half an hour.